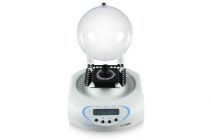 ExiSpin™은 실험 과정 중 반복되는 vortexing과 spin-down 과정을 결합한 자동화 장비로서 centrifuge와 vortex 기능을 기기의 program을 이용하여 자동으로 반복 수행할 수 있는 장비입니다.  ExiSpin™ 을 통해 PCR을 비롯한 분자생물학 연구에서 소요되는 실험시간을 획기적으로 단축할 수 있습니다. 특히 8-strip tube 4개를 동시에 처리할 수 있어 AccuPower® Kit 사용 시 신속하며 재현성이 있게 반응물을 혼합할 수 있습니다. 임상 분자 진단 검사분야, 생화학, 분자생물학 등 microtube를 사용하는 모든 분야의 연구에서 필수적인 장비입니다.
Features and Benefits
Full speed vortex and centrifuge:
No need to vortex by hand and load a centrifuge to spin down

Programmable:
Flexible programming ensures reproducible mixing

Economical:
For less than the cost of a vortexer, you get a centrifuge too!



Fully Automated Spin-Mix-Spin Technology
Spin-mix-spin 각 단계의 시간과 속도를 설정할 수 있고 반복횟수를 (1-999 cycles) 입력할 수 있습니다. 시료의 종류에 따라 다른 조건으로 microtube의 용액을 spin down 하고 mixing 하는 과정을 선택적으로 조절 가능하며 전자동으로 작동하여 실험의 재현성과 효율성을 높입니다.
1st spin: Spin down samples to a bottom of tube
Vortexing of samples
2nd spin: Spin down mixed samples to bottom of tube



Convenience and High Reproducibility
샘플 시료에 따라 최적화된 실험 protocol을 선택하여 실험자에 따른 오차 없이 항상 동일한 조건으로 실험할 수 있습니다. 4개의 8-well strips를 동시에 사용할 수 있어 32개의 PCR/qPCR mixture 를 최단시간에 제조할 수 있습니다. 또한 최대 12개의 1.5 ml 튜브를 사용하여 세포를 lysis 할 수 있습니다. 입력된 프로그램은 power-on 시에 계속 유지되어 한번의 버튼 조작으로 반복작동이 가능합니다.
Economical and Efficient
ExiSpin
™ 은 원심분리 기능과 vortex 기능을 모두 갖고 있어 두가지 장비를 개별적으로 구매할 경우와 비교하여 매우 경제적입니다. 또한 microcentrifuge용 tube 뿐만 아니라 PCR tube 사용이 가능한 rotor가 추가로 제공되어 별도의 액세서리 구입을 위한 비용이 절감됩니다.


Figure 1. Presented rotor for 8-strip PCR tube [left] and 1.5 ml microtube [right].
Applications
• Bacterial cell lysis
• PCR/qPCR 반응
• 제한효소 반응, kinase/ligation 반응
• 반복적인 mixing과 spin-down이 필요한 실험
Specifications
| | |
| --- | --- |
| Dimensions (W X H X D) | 19 cm (W) x 23.5 cm (H) x 12.5 cm (D) |
| Weight | 2.7 kg |
| Spin regulation | 1000 – 3500 rpm (increment 100 rpm) |
| Spin timer | 1 sec- 99 min |
| Vortexing strength | Soft, medium, hard |
| SMS- cycle regulation | 1 – 999 cycles |
| Power supply | AC 24 V, 1250 mA |
Notice to Purchaser
Trademark:
AccuPrep
®
ExiSpin
™ is a trademark of Bioneer Corporation.
Manual
MSDS
Brochure
Quality Assurance
EC Directive 98/79/EC - certificate. - certificate
| | | |
| --- | --- | --- |
| Cat. No. | Product Description | Price |
| A-7040 | ExiSpin™ | ₩900,000 |