AccuPower® MERS-CoV (upE&ORF1a) Real-Time RT-PCR Kit
AccuPower® MERS-CoV (upE&ORF1a) Real-Time RT-PCR Kit (COV-1112)
역학적 위험요인 또는/및 중동호흡기 증후군 코로나 바이러스 (MERS-CoV) 감염 의심환자의 객담에서 MERS-CoV (upE gene과 ORF1a gene) 유전자를 정성 검출


Overview
본 제품은 객담 (sputum)검체에서 Middle East respiratory syndrome coronavirus(MERS-CoV) 핵산을 실시간 역전사 중합효소연쇄반응 (Real-Time Reverse Transcription PCR) 기법을 이용하여 검출하는 시약입니다. 2012년 사우디 아라비아에서 처음 발견된 MERS-CoV는 주로 고열, 기침, 호흡곤란 등의 호흡기 이상과 같이 사스와 유사한 증상을 나타내며, 신부전과 중증급성 폐렴을 동반하여 치명적 결과를 초래하기도 합니다. 병원체의 전파를 방지하고 효과적인 대책마련을 위해 감염초기 단계에서의 바이러스 검출이 중요합니다. AccuPower® MERS-CoV (upE & ORF1a) Real-Time RT-PCR Kit는 안정화 기술인 진공 건조 형태의 제품으로, PCR에 필요한 모든 요소들이 단일 tube에 1회 사용분량으로 건조되어 제공됩니다.


Features and Benefits
편의성, 재현성이 우수한 One-Step RT PCR 시약
진공 건조 기술(Premix type) 적용으로 안정성 향상
분석 프로그램을 통한 간편한 결과 판독
Example of Results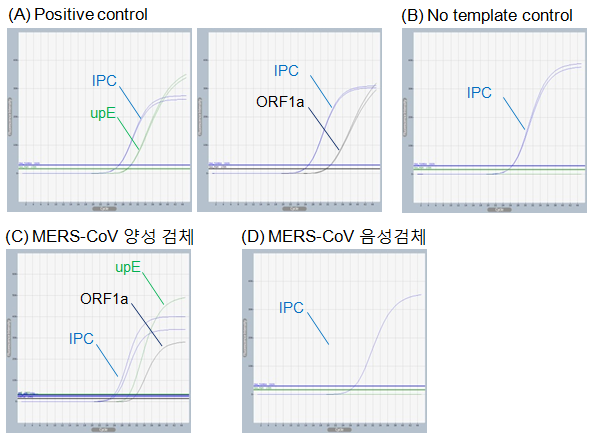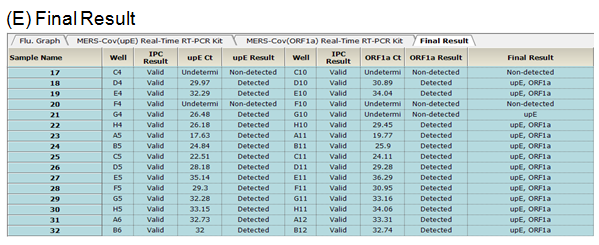 (A) 양성대조군 PC 의 증폭곡선
(B) 음성대조군 NTC의 증폭곡선
(C) MERS-CoV 양성 검체의 증폭 곡선 예시. 내부 표준 물질 IPC를 통해 유효성 확인
(D) MERS-CoV 음성 검체의 증폭 곡선 예시. 내부 표준 물질 IPC를 통해 유효성 확인
Specifications
| | | | | | |
| --- | --- | --- | --- | --- | --- |
| Cat. No. | Target Gene | Specimen | Time to Result | Tests | Instrument |
| COV-1112 | upstream of E (upE) gene, ORF1a gene | 객담 | 2 hours (post-extraction) | 48 | Exicycler™ 96 |
---
Quality Assurance
바이오니아는 아래의 국제 표준에 해당하는 품질 관리 시스템 인증을 보유하고 있습니다.

ISO 9001 – certificate

EN ISO 13485 - certificate
제품문의 및 안내
e-mail: ds@bioneer.com
본 제품은 "의료기기"이며, 사용안내서 상의 "주의사항"과 "사용방법"을 잘 읽고 사용하시기 바랍니다.
광고심의필 : 심의 번호 2016-I10-37-2280