S. pombe Deletion Mutant Individual Strains
반드시 로그인 후 주문서를 작성해주시기 바랍니다.
Bioneer's exclusive Schizosaccharomyces pombe (S. pombe) Genome-wide Deletion Mutant Library is a powerful tool for large-scale genetic functional analysis, identification and verification research of drug targets and for integrated systems research of cell function. Co-developed by Bioneer and KRIBB in collaboration with Dr. Paul Nurse of the Cancer Research Center in UK, the S. pombe Genome-wide Deletion Mutant Library can be used for genetic and chemical screening such as drug target identification, gene expression profiling, and synthetic lethal profiling. S. pombe offers higher homology with mammalian cells and human genes than those of S. pombe. S. pombe Genome-wide Deletion Mutant Library targets every ORF (4,914 types) in the S. pombe genome through a targeted mutagenesis method. A total of 4,840 heterozygous diploid deletion mutants representing 98.5% of the organism genome and 3,420 haploid deletion mutants with 95.6% genome coverage are available. Since there are different tag sequences (Barcode) in each individual mutant, the library provides an ideal way to approach research in gene function and drug target screening for large numbers of genes by using pools of mutants. It is also possible to analyze biological gene functions through phenotype research with the deletion mutant having specific genes absent.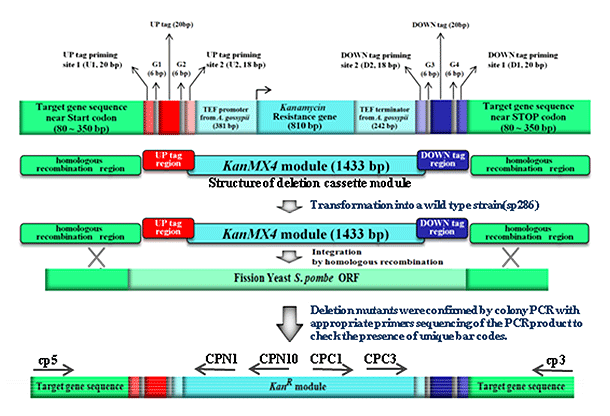 Features and Benefits

Genome-wide deletion mutants library (Only 2 kinds exist: S. pombe & S. cerevisiae)


It is similar with physiological process of mammalian cells


It has human cancer gene and over 30% of homology


It has the rapid cell cycle that it is simple to analyze molecular biological mechanism and pathway


Phenotype analysis is possible since it is recessive mutant type


Unknown genomic function analysis through functional complementation is possible


Analyzing genes biological mass function is possible using Genome-wide pool set


Cell base HCS drug target screening is possible
Application

Application #1 (Anti-fungal)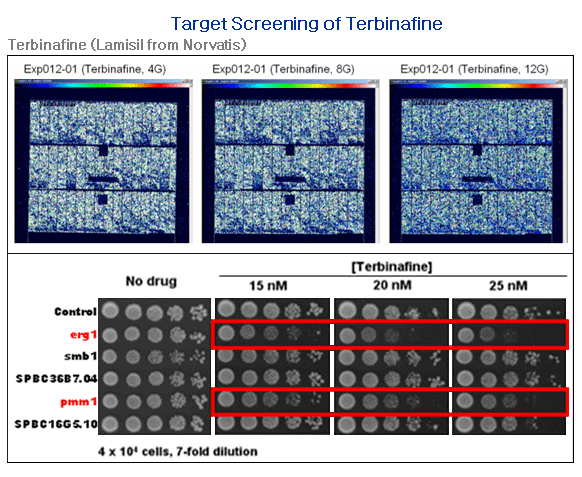 Another specific target (pmm1) of terbinafine was identified in addition to erg1, which would be useful for elimination of unwanted side-effects.
The novel target was confirmed by biochemical methods such as HPLC, and the results showed that terbinafine inhibited the enzyme in a direct way in a dose-dependent manner.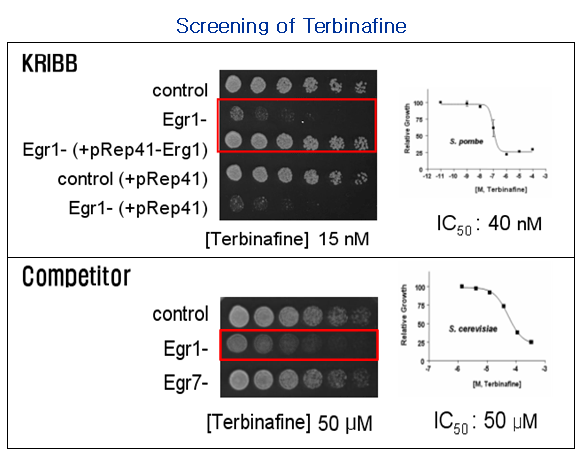 Our S. pombe system is 1000-times more sensitive to Terbinafine than S. cerevisiae system, which means more specific.

Application #2 (Anti-hyperlipidemic)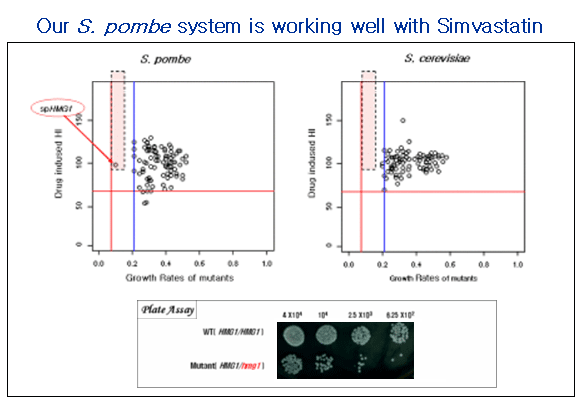 Our S. pombe system is better than the previous S. cerevisiae system.

Application #3 (General toxicity)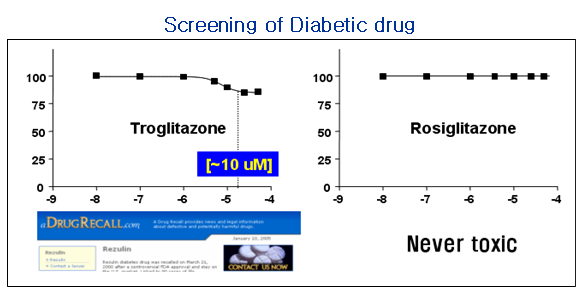 General cytotoxicity screening at the initial stage of drug develoment to save decision time and prevent a disaster such as recall.
Advantage of our system
1. Complementary to the previous S. cerevisiae system
- by increasing gene number from 6,000 of S. cerevisiae to 11,000 genes including those of S. pombe
2. Superior than the budding yeast system
- S. pombe is named as micro-mammal by NIH grouping of model organisms
- S. pombe system is more sensitive to anti-fungal drug (Terbinafine) by 1,000 times
- S. pombe system is working with anti-hyperlipidemic drug (Simvastatin)
- S. pombe system is constructed and up-graded only by us, which means reliable
Specifications
S. pombe Deletion Mutant Library Specification
strains
Diploid 4,840 strains, Haploid 3,420 strains
Selection Marker
KanMX4, G418
Genotype
Diploid: SP286 h+/h+ ade6-M210/ade6-M216 ura4-D18/ura4-D18 leu1-32/leu1-32

Haploid: ED666 h+ ade6-M210 ura4-D18 leu1-32
ED668 h+ ade6-M216 ura4-D18 leu1-32

Culture media
YES: for rich complete medium
EMM: for minimal medium
Strain verification
Check PCR, Sequencing
Storage
Store at -70°C (Glycerol type)
Store at 22°C to 25°C (Agar type)
References
Analysis of a genome-wide set of gene deletions in the fission yeast
Schizosaccharomyces pombe
Dong-Uk Kim, Jacqueline Hayles, Dongsup Kim, Valerie Wood, Han-Oh Park, Misun Won, Hyang-Sook Yoo, Trevor Duhig, Miyoung Nam, Georgia Palmer, Sangjo Han, Linda Jeffery, Seung-Tae Baek, Hyemi Lee, Young Sam Shim, Minho Lee, Lila Kim, Kyung-Sun Heo, Eun Joo Noh, Ah-Reum Lee, Young-Joo Jang, Kyung-Sook Chung, Shin-Jung Choi, Jo-Young Park, Youngwoo Park, Hwan Mook Kim, Song-Kyu Park, Hae-Joon Park, Eun-Jung Kang, Hyong Bai Kim, Hyun-Sam Kang, Hee-Moon Park, Kyunghoon Kim, Kiwon Song, Kyung Bin Song, Paul Nurse, Kwang-Lae Hoe
Nat Biotechnol. 2010 Jun;28(6): 617-623. •More information

Stc1: A Critical Link between RNAi and Chromatin Modification Required for Heterochromatin Integrity
Elizabeth H. Bayne, Sharon A. White, Alexander Kagansky, Dominika A. Bijos, Luis Sanchez-Pulido, Kwang-Lae Hoe, Dong-Uk Kim, Han-Oh Park, Chris P. Ponting, Juri Rappsilber and Robin C. Allshire
Cell. 2010 Mar 5;140(5):666-677. •More information

Screening a genome-wide S. pombe deletion library identifies novel genes and pathways involved in genome stability maintenance
Gaurang P. Deshpande, Jacqueline Hayles, Kwang-Lae Hoe, Dong-Uk Kim, Han-Oh Park and Edgar Hartsuiker.
DNA Repair (Amst). 2009 May 1;8(5):672-679. Epub 2009 Mar 4. •More information

Conservation and Rewiring of Functional Modules Revealed by an Epistasis Map in Fission Yeast
Assen Roguev, Sourav Bandyopadhyay, Martin Zofall, Ke Zhang, Tamas Fischer, Sean R. Collins, Hongjing Qu, Michael Shales, Han-Oh Park, Jacqueline Hayles, Kwang-Lae Hoe, Dong-Uk Kim, Trey Ideker, Shiv I. Grewal, Jonathan S. Weissman,Nevan J. Krogan
Science. 2008 Oct 17;322(5900):405-410. Epub 2008 Sep 25. •More information

A genome-wide screen of genes involved in cadmium tolerance in Schizosaccharomyces pomb
Patrick J. Kennedy, Ajay A. Vashisht, Kwang-Lae Hoe, Dong-Uk Kim, Han-Oh Park, Jacqueline Hayles and Paul Russell.
Toxicol Sci. 2008 Nov;106(1):124-139. Epub 2008 Aug 6. •More information

Significant conservation of synthetic lethal genetic interaction networks between distantly related eukaryote
Scott J. Dixon, Yaroslav Fedyshyn, Judice L. Y. Koha, T. S. Keshava Prasad, Charly Chahwan, Gordon Chua, Kiana Toufighi, Anastasija Baryshnikova, Jacqueline Hayles, Kwang-Lae Hoe, Dong-Uk Kim, Han-Oh Park, Chad L. Myers, Akhilesh Pandey, Daniel Durocher, Brenda J. Andrews, Charles Boone.
Proc Natl Acad Sci U S A. 2008 Oct 28;105(43):16653-16658. Epub 2008 Oct 17. •More information

The tumor suppressor homolog in fission yeast, myh1+, displays a strong interaction with the checkpoint gene rad1+
Kristina Jansson, Jonas Warringer, Anne Farewell, Han-Oh Park, Kwang-Lae Hoe, Dong-Uk Kim, Jacqueline Hayles, Per Sunnerhagen.
Mutat Res. 2008 Sep 26; 644(1-2):48-55. Epub 2008 Jul 16. •More information

Response of Schizosaccharomyces pombe to zinc deficiency
Samantha J. Dainty, Ciarar A. Kennedy. Stephen Watt, Jürg Bähler, and Simon K, Whitehall.
Eukaryot Cell. 2008 Mar; 7(3):454-464. Epub 2008 Jan 18. •More information

Characterization of Sro1, a novel stress responsive protein in Schizosaccharomyces pombe
Geetanjali Sundaram, Santanu Palchaudhuri, Sibapriya Chaudhuri, Sheelarani Karunanithi, Dhrubajyoti Chattopadhyay.
FEMS Yeast Res. 2008 Jun; 8(4):564-573. Epub 2008 Apr 8. •More information

Genomewide identification of pheromone-targeted transcription in fission yeast
Yongtao Xue-Franzén, SØren Kjærulff, Christian Holmberg, Anthony Wright, Olaf Nielsen.
BMC Genomics. 2006 Nov 30; 7:303. •More information


Patent
10-2008-037420, 12/989,192
Construction
S. pombe Diploid Deletion Mutant Construction

Diploid deletion mutants in the S. pombe genome were systematically constructed with targeted mutagenesis at each target ORF. The chromosomal location of the ORFs and their DNA sequence information were obtained from the public fission yeast database at the Welcome Trust Sanger Institute (www.genedb.org). The deletion cassette module construct contains a selection marker (Fig. 1), tag sequences (molecular barcodes), and the sequences for homologous recombination (Fig 2). The deletion cassette modules were constructed by PCR with well-designed primers. The cassettes were transformed into the S. pombe, SP286 diploid host strain (h+/ h+, ade6-M210/ade6-M216 ura4-D18/ura4-D18 leu1-32/leu1-32). Deletion of the target ORF was screened for by G418 antibiotic selection (Fig 3). If chromosomal integration occurs properly via homologous recombination at the target ORF in a colony, that colony would obtain antibiotic resistance from the KanMX4 selection marker gene.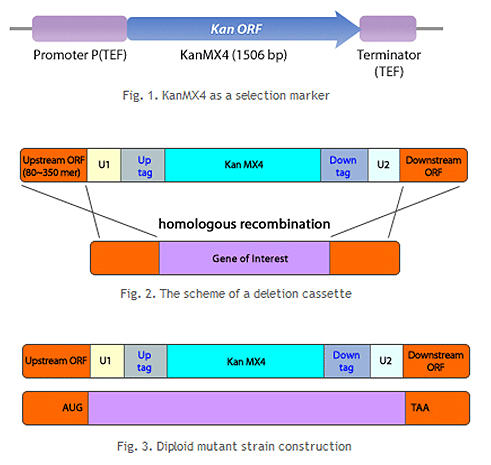 S. pombe Haploid Deletion Mutant Construction

S. pombe haploid mutants have been constructed from diploid mutants as follows: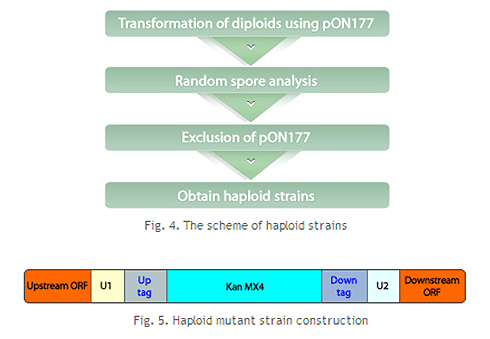 Verification of S. pombe deletion Mutants
Deletion mutants were confirmed by colony PCR with AccuOligo® S. pombe Validation Primer of the PCR product to check the presence of unique bar codes.

We verified the mutant using colony PCR method: PCR enzymes directly reach the chromosomal DNA after breaking the cell wall of mutant colony by enzyme or physical forces. To know whether the mutant grown in G418 plate is the final deletion mutant of target gene or not, we prepared two kinds of gene-specific primers for 5' upstream and 3' downstream of target gene. One, named CP5 was used for colony PCR with common CPN1 and CPN10 primers at the N terminus and the other, named CP3, is for CPC1 and CPC3 primers at the C terminus of the KanMX module, respectively. Finally, we were able to confirm the mutants based on the size of the PCR fragments.

To confirm deletion mutant for a target ORF, the tag sequence was amplified by colony PCR using a primer specific to the target gene and the common primer in KanMX module.

Sequences of CPN1, CPN10, CPC1, CPC3 in KanMX module
CPN1 5-CGTCTGTGAGGGGAGCGTTT-3
CPN10 5-GATGTGAGAACTGTATCCTAGCAAG-3
CPC1 5-TGATTTTGATGACGAGCGTAAT-3
CPC3 5-GGCTGGCCTGTTGAACAAGTCTGGA-3
Cat. No.
Product Description
Quantity
Price
S. pombe Deletion Mutant Individual Strains
M-1010
S. pombe Individual Haploid & Heterozygous Diploid Deletion Mutant Strains
Agar type
Glycerol type
$200.00
S. pombe Deletion Mutant Set
M-5030H-LT
S. pombe Haploid Deletion Mutant Set ver 5.0 Life Time
36 plates (96-well)
25,000.00$
M-5030H-5Y
S. pombe Haploid Deletion Mutant Set ver 5.0 5Y License
36 plates (96-well)
15,000.00$
S. pombe Related Item
M-3030P
AccuOligo S. pombe Validation Primer Set
72 plates (96-well)
5,500.00$
M-3030P-U4
S. pombe Validation Primer ver 3.0 to ver 4.0 Upgrade Pkg
6 plates (96-well)
800.00$
M-3030P-U5
S. pombe Validation Primer ver 3.0 to ver 5.0 Upgrade Pkg
20 plates (96-well)
1600.00$
M-1030-D
S. pombe Genomic DNA
5 x 0.2 ml
Get a Quote