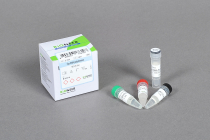 Top DNA polymerase는 Thermophile polymerase gene을 유전자 재조합 기술을 이용하여 polymerase activity를 향상시킨 thermostable DNA polymerase 입니다.
특장점
최적화된 버퍼 제공

Top DNA polymerase 에 최적화된 버퍼를 제공하여 안정적 반응을 보증합니다.

높은 증폭효율 및 민감도

PCR 방법을 사용한 DNA 증폭 실험에 높은 효율과 민감도를 갖습니다.

재현성

ISO 9001 품질시스템 하에서 생산되어 각 batch에 대한 균일한 품질의 제품이 공급되기 때문에 재현성 있는 결과를 얻을 수 있습니다.
응용 및 적용
Real-time quantification of DNA and cDNA targets using dsDNA binding dye

Gene expression profiling

Microbial & viral pathogen detection
실험 자료

Figure. Sensitivity test of Top DNA polymerase using Lambda genomic DNA.
Each fragment was amplified from a template dilution series (10 ng to 10 fg DNA per reaction) using 1 U of each Top DNA polymerase.