CycleScript™ Reverse Transcriptase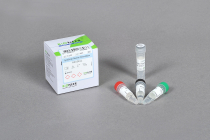 CycleScriptTM Reverse Transcriptase는 안정화 물질을 첨가하여 고온(55°C)에서도 cDNA를 합성할 수 있는 제품입니다. 본 제품은 기존의 단일 온도 역전사 반응 (Fixed Temperature Reverse Transcription, FTRT)뿐만 아니라, PCR 반응과 같이 2-3 단계의 순차적인 온도 변화를 통한 순환적 역전사 반응 (Cyclic Reverse Transcription [CRT])을 수행할 수 있는 제품입니다.
특장점
Flexible Reaction Conditions

순환 온도 역전사 반응은 저온 (15 ~ 40℃)에서 primer annealing이 진행되고, 고온 (50 ~ 55℃)에서 template RNA의 2차 구조 형성을 풀어주는 과정을 반복적으로 적용하여 기존의 42℃ 역전사 반응보다 높은 효율로 cDNA를 합성할 수 있습니다. 순환 온도 역전사 반응과 더불어 단일 온도(22 ~ 55°C)에서 역전사 반응이 가능합니다.

안정성

안정화 물질이 포함된 제품으로 기존의 Reverse Transcriptase 보다 열안정성이 증가되어 55℃까지 역전사 반응이 진행될 수 있습니다.

사용의 용이성

순환적 역전사 반응을 수행할 경우 primer와 RNA template의 pre-incubation 과정이 생략되어 실험방법이 간단하고 반응시간이 단축됩니다.

재현성

ISO 9001 품질시스템 하에서 생산되어 각 batch에 대한 균일한 품질의 제품이 공급되기 때문에 재현성 있는 결과를 얻을 수 있습니다.
응용 및 적용
First-strand synthesis of cDNA from RNA molecules
RT-PCR
Random priming reaction
Library construction
Probe labeling
mRNA 5' end mapping by primer extension analysis
실험 자료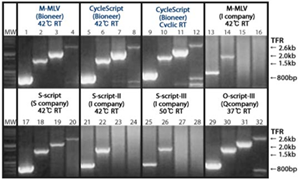 Figure. Comparison of transferrin receptor gene amplification with different reverse transcriptases. 700 ng of total RNA was used for reverse transcription and the same amount of amplified products were used for electrophoresis.
Lane MW; 100 bp Plus DNA Ladder (Bioneer, Cat. No. D-1035)
Lane 1 - 4; TFR (Transferrin receptor gene) amplified with MMLV
Lane 5 - 8; TFR amplified with CycleScriptTM
Lane 9 - 12; TFR amplified with CycleScriptTM
Lane 13 - 16; TFR amplified with MMLV from company IA
Lane 17 - 20; TFR amplified with S-script from company S
Lane 21 - 24; TFR amplified with S-script ll from company I
Lane 25 - 28; TFR amplified with S-script lll from company I
Lane 29 - 32; TFR amplified with O-script from company Q