AccuPower® CycleScript™ RT PreMix & Master Mix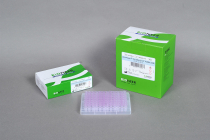 AccuPower ® CycleScript RT PreMix는 바이오니아의 특허기술인 순환 온도 역전사 반응 (CTRT, Cyclic Temperature Reverse Transcription)이 적용된 제품입니다. 순환 온도 역전사 반응은 합성 효율을 증가시킬 뿐 아니라 full-length cDNA 합성에 효과적입니다. 또한 oligo dT20, dN6, dN12 primer가 포함된 제품을 선택할 수 있으며, primer를 비롯한 cDNA 합성에 필요한 모든 구성 물질이 포함되어 있어 template RNA와 D.W.만 넣어 손쉽게 cDNA를 합성할 수 있습니다.
특장점
유연한 반응 조건

순환 온도 역전사 반응은 저온 (15 ~ 40℃)에서 primer annealing이 진행되고 고온 (50 ~ 55℃)에서 template RNA의 2차 구조 형성을 풀어주는 2 ~ 3개 단계를 반복적으로 적용하여 기존의 42℃ 역전사 반응보다 높은 효율로 cDNA를 합성할 수 있습니다. 순환 온도 역전사 반응과 더불어 22 ~ 55°C 내의 단일 온도에서 역전사 반응도 가능합니다.

안정성

안정화 물질이 포함된 건조 제품으로 RTase의 열안정성 증가로 55℃까지 역전사 반응이 가능합니다.

Controllable Reaction Time

반응시간은 증폭하려는 유전자의 copy 수와 크기에 따라 달라질 수 있습니다. High copy gene의 경우, 10분의 역전사 반응으로도 충분한 양의 cDNA를 합성할 수 있습니다.

재현성

ISO 9001 품질 시스템 하에서 대량 생산되어 lot 간 편차가 최소화 되었으며, 반복적인 실험에도 재현성 있는 실험 결과를 제공합니다.

편리성

Primer를 비롯한 cDNA 합성에 필요한 모든 구성 물질이 포함되어 있어, 증폭하고자 하는 RNA와 D.W.만을 첨가하여 바로 RT 반응을 수행할 수 있습니다.
응용 및 적용
• Sequencing single and double-strand DNA or RNA
• Random priming reaction
• cDNA library construction
• Probe labeling
• mRNA 5'-end mapping by primer extension analysis
• PCR
• Real-time PCR
실험 자료

Figure. Reaction conditions of Cyclic RT compared with that of conventional RT.
The conventional fixed temperature RT reactions at 42°C and 55°C and cyclic RT reactions at 37°C and 50°C using HeLa cell total RNA (800 ng each) were performed 800 bp, 1.5 kb, 2.0 kb, and 2.6 kb fragments of human transferrin receptor gene were amplified with each primers. AccuPower® CycleScript RT Premix series (dT20 & dN12) preferably shows good results at cyclic RT reaction condition.